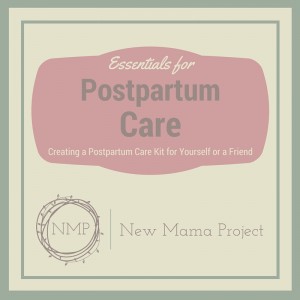 There are plenty of places to get lists of all the baby gear you need to take care of a newborn. Whether you want it or not, you will probably be inundated with more onesies, blankets, and baby socks than you could ever imagine using.  What people think about less, though, is what a new mom needs to take care of herself after birth.  Many expectant moms overlook what they will need to recover. Taylor and I started our work supporting postpartum women by creating postpartum care kits for our friends.  This is a basket full of essential and nurturing items for postpartum care and wellness.  If you are fortunate to have friends or family that are tuned into your needs you may receive such a gift.  If not, you can give the gift to yourself.  Here are some of our favorite items to include.
Postpartum Pads and Witch Hazel.  You will want large sanitary pads to absorb some of the bleeding after birth.  You can also soak them with witch hazel and freeze them.  This is a soothing icepack for your vaginal area after any birth injuries.
Postpartum Herbal Sitz Bath. We like this recipe: After Birth Sitz Bath.  We also like the idea of encouraging new moms to find time to take a bath.  Warm baths are soothing and relaxing.  A mom can take a baby with her baby and have some quiet bonding time while healing her body.
Nipple Cream.  If you are breastfeeding you may run into a nipple injury.  I found that Motherlove nipple cream worked wonders on healing cracked nipples.
Adult Wipes.  To be frank, pooping after birth is a frightening endeavor for many women.  Usually it is fine, but there is a lot of anxiety that comes with that first poop. Some flushable soft wipes will make clean-up a little more comfortable on a possibly sore bottom.
Nourishing Snacks.  Finding time to eat as a new mom can be challenging.  Having some healthy snack options like granola bars and trail mix stashed around your house is a great strategy.  You never know where or when you'll get stranded with a sleeping or feeding baby.  You can also be sure that as soon as you sit down to nurse you will be starving and thirsty.  So stash some snacks and drinks in key places where you're likely to be stranded.
Tasty Indulgences.  New moms work hard.  They deserve some treats.  Think about a nice bar of dark chocolate or another favorite treat to have when you need a little moment of joy.
Handy drinking vessel.  You just can't know the thirst that comes when you are stranded on the couch with a nursing baby until you experience it.  Taylor and I both loved using large plastic tumblers with straws during the first couple weeks postpartum.  You've got to have something that you can use with 1 hand (no screw caps) and that holds a lot of water so it will always be stocked.  The straw is handy for awkward drinking while feeding maneuvers.
Nursing Tops.  You might want to pick up a few stretchy and comfortable tops for the first few weeks.  I felt so overwhelmed trying to figure out what shirts to wear while nursing.  I had bought a few bras and tanks, but they didn't really work. It can be hard to determine what size you'll be.  If you can buy a couple different sizes and have someone return them that may be good.  A simple shelf bra or tank might be the best option to start since it will likely stretch more than a structured bra.
Journal.  You might want to think about a journal to record thoughts or important moments.
Small basket to keep nearby.  It's nice to have a little basket to keep your snacks, drinks, phone, and burp cloths in.  Mom can tote it around from room to room and always have what she needs on hand.
Mothers are integral to baby care, and mom's wellness needs to be valued as much as baby's health.  A mother who is not feeling well, hurting, or emotionally strained may struggle to care for her baby.  Many moms feel swallowed by their role as mother, and their wellness is often overlooked by visitors interested in the new baby.  We want new moms to think about their wellness proactively.  We want you to value yourself enough to take care of yourself.  Building a postpartum care kit is just as essential as setting up the nursery – probably even more important.  If you've already had a baby – make sure you are caring for yourself, and spread the word to an expectant friend about how she can prepare for the postpartum period.