For those of you with a new baby in arms you may be wondering how things will go this winter.  If you are in the Northeast, like we are, you are probably crossing your fingers that this mild weather will continue and that you will not be shut in your house for the next four months.  When I had my daughter, I felt isolated from my friends and family.  I felt like I was going through this dramatic transformation that no one noticed and many people did not understand.  I remember vividly that in the first few weeks I was so desperate to talk to people I made more phone calls than I probably have in the past 10 years.  It was during the postpartum period, in the woods of Central New York, that I realized what a fundamentally social person I am.  I was stuck in the house or on our property most of the day alone with my new baby.  The routine of mothering a newborn was not fulfilling to me.  It was demanding and sometimes boring.  I feel obliged to say that I love my daughter deeply and cared for her very attentively, but now that she's older I understand that the newborn days are just not quite my thing. So, what helped?  What can help? If you are a new mom how are you going to survive winter this year?
I've got a couple ideas that I think could help.  I'll share my first concept today and my next one in my next post – which will be December 29th (Sign up for our Newsletter if you want a reminder about that blog post and all our other exciting news). Today I want to talk about how Scandanavian countries deal with long dark winters without elevated rates of depression during winter.  Perhaps you've heard of koselig or hygge.  I just discovered these terms and I'm so excited to share a bit about them because I think that embracing koselig and hygge can help new moms deal with the isolation and mundanity of the postpartum days, especially in winter. Next post will be focused more on staying active and getting out with baby in winter, stay tuned!
What is koselig or hygge?  Koselig is a Norwegian word and hygge is a Danish word.  Neither has a direct translation to English, but they describe the concepts of coziness, togetherness, warmth, intimacy, and being content. When I tried to think about a time when I experienced koselig I was reminded of a visit to Montreal last year right before the Christmas holidays. There was certainly a sense of koselig in there air.  Old Montreal is a beautiful cobble stoned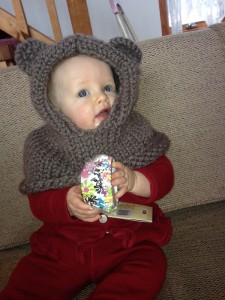 area that looks like a little European village.  In one square one evening there were fire pits, patio heaters, hot chocolate, and lot's of pretty lights. There were outdoor art installations amidst two feet of snow.  There are tons of underground tunnels to keep you warm in winter and no shortage of cozy cafes and restaurants to warm up in. There was even a flash mob on the subway sprinkling tinsle and giving out $5 gift cards to a coffee shop. Like folks up north seem to do, to me koselig or hygge means accepting the season and continuing to live life to fullest.
I was brought up Catholic and my family continues to celebrate Christmas.  Even though I am not a religious person these days I enjoy the cozy feeling that comes with the winter holidays.  I love the lights outside folk's houses and I'm always excited about spending time with family and friends engaged in activities and rituals that bring joy and comfort. This is the closest I think the US gets to hygge or koselig.  This holiday season got me thinking about how I could create this sense of coziness and togetherness in my home throughout the winter.  Then it got me thinking about how this approach could help new mamas who are feeling lonely, sad, or worried about a long, cold, dark winter. It is possible to enjoy winter with a new baby.
Here are some ideas I have about creating koselig and hygge in your life.
Create a cozy nook in your house. Is there a spot that you could add a couple pillows, some candles, baskets, and blankets?  Is there a spot you are spending a lot of time in? How could you cozy it up a bit. Maybe 15 minutes of rearranging or adding some favorite decorations could make this spot more koselig.
Find ways to connect with your support network. It is so easy to withdraw a

bit in winter, and as a new mom it probably feels daunting to think about hosting any get togethers.  Who could you connect with that will bring positivity to your life? Do you want to have them over for a cup of tea and some cookies? Do you have a cozy coffee shop you could meet at?  Which of your friends has a hygge house that you can visit and find peace in for a bit?

Lighting. Candles and twinkle lights make even the starkest room look cozy.  We stuffed some old holiday lights into mason jars and arranged them on a big window sill around some of our house plants – instant koselig!  Best of all this was free and took 10 minutes.  Also candles anywhere and everywhere will help cozy things up.  If you only have a newborn this is a great time to enjoy real candles – with toddlers you might consider battery operated candles – some of these can be set on a timer to automatically turn on each night!
Comfy clothes. How good do those fleece PJs feel?  What about your slippers? I love coming home from work and slipping on my PJs  – yes this happens around 6pm every day.  It just feels good and you should only be wearing clothes that feel good these days.
Drinks and Food.  What food and drinks feel cosy and familiar to you?  Can you set up a little basket of tea or a coffee station that's easy to access, inviting, and practical? Also, are there some comfort foods that would be good for you to eat?  We know cooking can be a major chore these days, but if you can get someone to make you your favorite meal or get take out from your favorite place that can brighten up a dark moment.
Cozy rituals with baby. What activities do you enjoy with baby?  What helps break up the day? How do you bond with baby? Newborns don't give a lot back as far as interaction, but they are pretty willing to do whatever you want (as long as you're holding them).  I spent some time reading with my tiny baby – well before she had any interest.  I also went to the library once a week and picked out a couple books to read with her.  It was completely meaningless to her, but I enjoyed the ritual, and getting out of the house. I also learned how to do infant massage and incorporated that into our bedtime routine.  How about some soothing music, dancing, baths together, or a little mama baby yoga?
Hopefully you've got an idea about what koselig and hygge are.  As a new mom it's hard to imagine making big changes to your routine, but maybe a few small additions to your day will help you add a little coziness and increase your sense of contentment – even if it's just for 10 minutes.  Let's all work on making our winter more koselig this summer and share our ideas.
Check out our Koselig Pinterest board for more ideas!