Much of what we write here is geared towards new mamas with babies already in their arms. But we also strive to reach expectant moms, those on the cusp of motherhood who might not yet know or understand what their needs will be after their baby is born. There's so much talk these days about the importance of birth preparation and planning and I strongly believe that our birth experiences greatly affect psyche and our motherhood experiences. It's important to educate ourselves about our birthing options. But we also want to start an important conversation about postpartum preparation. It's the often missed piece of the puzzle as we embark upon motherhood and I am confident that with some planning ahead during pregnancy, many moms might experience the postpartum transition a bit more peacefully. I'll be sharing some ideas and compiling some of our resources for postpartum preparation intermittently here on the blog and hope you'll share them with the pregnant moms in your life!
Preparing for a baby can get overwhelming.  In our dominant Western culture, we receive so many messages about how much stuff we need for our babies.  So many families, especially those expecting their first child, end up filling their homes with baby gear.   As a result, I think we can become overwhelmed with things when we end up with way more than we need, we can miss opportunities to tune into our babies and our instincts when it comes to parenting them, and we also forget about what we need for ourselves as parents as we recover from giving birth and adjust to having a baby.  If you haven't yet, make sure to read about postpartum must-haves for mom – please don't neglect to care for yourselves during this major life transition.  I think that simplifying our lives at this time can be so beneficial.  It will allow you to focus your time and energy on bonding as a new family.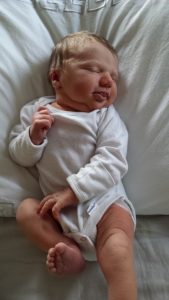 My husband and I prepared for our first baby by getting all the gear we were told we needed.  We had a full registry for gift givers and bought additional things ourselves.  During this time, I didn't once think about what I might need during my postpartum transition.  And sadly, nobody else encouraged me to think about or plan for this either.  After he was born, I had nothing I needed for myself and we had way more than we needed for him.  Two years later, we prepared to welcome our second child by getting rid of things.  I was already overwhelmed by the volume of things we had and they weren't bringing any of us joy.  We gave away and donated so much and it felt so very good.  Since then, we have had our third baby and really have very minimal baby gear.  I've decided there are very few essential material things for a new baby.  In addition to these few things, what babies really need is lots of touch, interaction, and love from their caregivers.  You and your love for your baby are enough.  For us, everything else has been unnecessary.
Here are my 6 Must-Haves for Baby:
1. Food.
This one is pretty straightforward. You need breasts or formula and bottles. And you need support for learning to breastfeed. As you plan for postpartum, make sure you're aware of local resources for breastfeeding support.
2. Diapers.
Cloth or disposable and you're good to go. And if you're going the cloth route, I'd encourage you to resist the temptation to stock up heavily at first. Just buy a little bit and see what type you like best before making an investment. I'd also encourage you to have a pack of newborn disposables, even if you're planning to use cloth. You may appreciate the ease of disposables during the first week or so and you may not want to deal with babies initial meconium poops on your cloth diapers.
3. Clothing.
You just need enough to keep the baby warm and, if possible, not need to do laundry every day.
4. A safe sleeping space.
Whether it's a crib, a bassinet, a co-sleeper, or your bed (following safe co-sleeping guidelines), you need someplace safe to lay your baby down.
5. A car seat.
This is necessary if you plan to drive anywhere and keep baby safe.
6. A baby sling or wrap.
Babies love to be held and that can be tiring at times. Investing in one sling or wrap for a newborn will help you keep baby close where he or she loves to be and also save your arms some work. There's a slight learning curve with these and you may find that you're not completely hands-free while wearing your baby, but they help so much once you get the hang of them! Check out babywearing international for more on this. You can even see if your area has a local babywearing group where you might find some help as you're learning.
Check back in for more thoughts on partner must-haves, and sibling must-haves in the weeks to come.