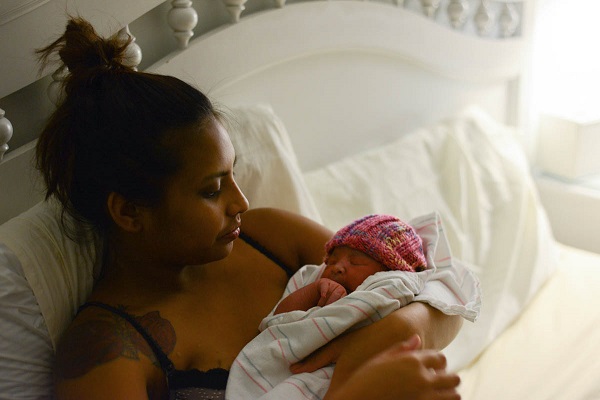 Have you brought a new baby into your world in your recent or distant past? If so, then you probably remember (or are living through) the feeling that you will never leave the house again. I'm pretty sure every new parent has felt this way, at least for a moment.  For many, the first trip out of the house is an intimidating goal that can be stressful in and of itself. Today I want to talk about why it's so challenging to leave the house, why it's still important to get help now, and how you can get postpartum help, even without leaving the house.  I know that you will leave the house again, and that things may be hard right now.
Why is it so hard to leave the house with a newborn?  You just feed them, put clothes on them and pop them in the stroller or car seat – right?  Sometimes it is that simple and our anxiety gets the better of us.  Sometimes there's a lot more going on.  First of all, new parents are overwhelmed with the task of daily living with a newborn.  Parents are tired – a kind of tired they probably haven't been before – and any extra activity sounds daunting. As a new parent you don't know how your baby will respond to new situations.  If you are a breastfeeding mom, the idea of nursing anywhere but at home can also be really intimidating.  If you have given birth recently, you may feel like you do not have any acceptable clothes to wear outside of your house. Depending on  your birth, or pre-existing medical conditions, you may not be able to drive, walk, or otherwise get around very easily – especially with a new baby.  Even if you are physically capable, you may just be nervous about driving with baby in the car. Maybe you live in an isolated rural area where the closest store is quite a ways away – which makes leaving the house even more daunting.  Finally, you may be dealing with a postpartum mental health issue with symptoms including fear and anxiety about leaving the house, compulsive thoughts about bad things that could happen if you leave, difficulty fulfilling daily obligations, or other challenges.  There are many reasons that it is difficult to leave the house as a new parent, but it's important to remember – you still need postpartum help.
New parents need help during the postpartum period. Time and again I hear from mothers that some of the most valuable support they receive is connecting with other mothers.  It's so important to know you're not alone in your experience. New parents need information from a trusted source about their experience and their baby's behavior, both to reassure them that things are normal and to be vigilant for postpartum mental health issues. New parents need to develop strategies to care for themselves – often this takes the support of a friend, family member, or professional. As new parents, you have been thrown into a new job without much training.  Just like any new job, you do need some help to figure out what you're doing. New parents are juggling a lot of responsibilities and transitions, so it's normal to feel overwhelmed and to wish for support.  Finding creative ways to get postpartum help, even if you haven't figured out how to leave the house, will help ease your postpartum transition.
Here are seven simple ways to get postpartum support without leaving your house:
Call a friend.  Whether you are getting emotional support or asking for someone to come over and clean your bathroom, making that call is the first step to getting the help you need.  Remember that people generally want to help new parents, they sometimes just don't know where to start.
Ask your partner for more help. If you are feeling overwhelmed, remember that you need to ask for help. No one said you have to do this alone, but your partner may not be able to definitely can't read your mind.  If you need help figuring out what you need help with and how to ask for it, sign up for our newsletter to get our Free Downloadable Social Supports Guide.
Find community and support online. If you are looking for the support of other moms, with some clear and simple tips for self-care consider, signing up for our Peaceful Postpartum Online Retreat.  We specifically designed this retreat to be easily accessible to even the newest of parents.  We will send you regular emails with downloadable content full of ideas for easing your postpartum period – like self-care, social support, managing negative thoughts and more.  We also create a private Facebook group and host two live chats where you can connect with others participating in the retreat.
Consider online therapy. As a mental health counselor I know that therapy can be a powerful tool to wellness.  As a mom I know that finding the time to get to therapy can be challenging.  Thanks to technology you can now bring therapy right to your living room.  If the kind of postpartum help you need involves mental health counseling, here are a couple online therapy websites we recommend: Breakthrough or Regroup Therapy.
Get expert parenting information online. There is a world of information out there and it is all at your fingertips with an internet connection.  We know that you can go overboard with googling about your postpartum experience, but with a little restraint and good judgement you can find some reputable information on the web.  Visit our resources page for some of our recommended sources.
Hire someone to help. We know this is not realistic for everyone, but hired postpartum help is a great resource. If you can hire a doula, housekeeper, or babysitter, that might help you out for even just a few hours. Many people may be eligible for visiting nurse and lactation consultation services in their home as well.
Get supplies (and food) delivered to your door.  In this day and age you can get just about anything delivered within a few days.  If ordering diapers, baby wipes or takeout would help you get through the day or the week, go for it!
I know that the postpartum period brings incredible joy to your life, but also a certain level of stress.  I get it.  It's ok to not feel like leaving your nest of safety for a while. I also know that most moms start getting back out into the world, bit by bit.  You will figure this out, just give yourself some time.  I also want you to pay attention to what's going on. If you're continuing to avoid leaving the house after a few weeks or a month, feeling anxious or depressed, or having intrusive thoughts, you may be experiencing a postpartum mental health issue and you should contact your primary care provider to get connected with someone who can help.  Whatever is happening in your world these days remember to ask for help now – there are people who want to help.  Don't forget to check out our Peaceful Postpartum Online Retreat for more information about how NMP is bringing postpartum support to the comfort of your living room.